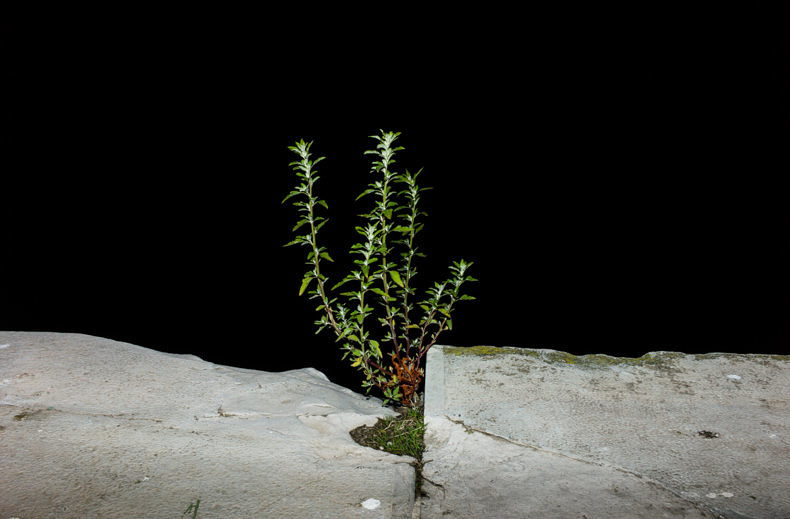 This work is a part of a long term research project, which questions the idea of an invasive plant and whether its qualities in fact undesirable. I try to understand what makes a garden, what we protect and put behind the garden's fence and what happens outside in no man's land.
Being 18 years old I left my hometown in the Northern Caucasus for Saint-Petersburg, then I lived in the Balkans, Stockholm, Madrid and finally Arles, France. Continuous migration makes me think that I adapt myself to a new place, keeping transplanting my roots from one city to another.
I like the idea that the earth is a one unique garden where all the plants have the same value, without any hierarchy. Living in beautiful Provence, I was fascinated by weed plants. They grow between the stones, in places that are not supposed to be good for growing. They resist strong winds and temperatures, we try to prevent them from growing both in gardens and in public spaces, but they resist and grow and bloom. In this series I make portraits of these amazing plants.
For me, the symbolic meaning of a plant as important as it's documentary value. The weed, invasive plant is a symbol of a way of thinking and dealing with idea of migration, relation to a place or environment, and the way we see and relate to the nature.
The plants are small in size, but with the help of the camera and flash, they become significant and we discover their beauty, that we usually ignore.
This series has been made during my work at international residence at ENSP in Arles, France.
All images ©Anna Cherednikova