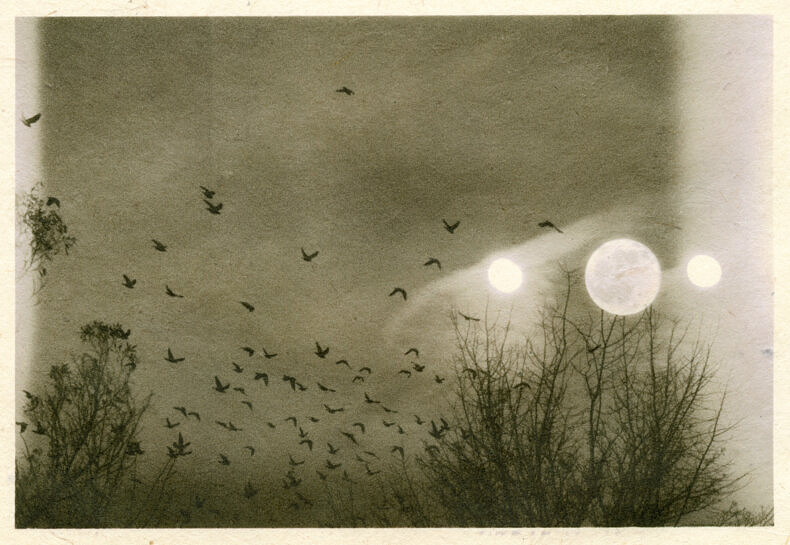 'Lacuna / Intertwine' is the result of a long-distance collaborative project, where two photographers who met online exchanged undeveloped films exposed in their local areas, for the other to overlay with their own set of images. Created during the UK winter lockdowns, a time where it was difficult to connect and make art with others in real life, this act of posting film, walking and conversing through photography felt invaluable.
Both collaborators walked around their local areas with their camera, a stroll they might have done hundreds of times, taking pictures of things they may have seen hundreds of times – but knowing that another exposure would imprint the film allowed for a fresh perspective. These interwoven frames offer the chance to see the landscape in a different way, and reflect on the differences between their respective locations.
Embracing chance and happy accidents, the resulting images depict a dream-like in-between space, where multiple locations, events and time-scales are intertwined on a single surface. The compositions are a photographic 'cadavre exquis', where two unknown elements are combined to reveal a new surreal image. Birds sweep through gloomy forests, moonlight pierces the surface of the ocean, distant lights and shadows are cloaked in sea-spray. It felt appropriate to embrace the feelings of uncertainty created by the circumstances in our creativity, and echo the warped sense of time experienced over the last year. As a final layer each image was printed onto handmade paper, the textured surface reflecting the tangible experiences we missed over winter.
This series is a reminder that creativity can offer relief and nurture relationships, especially when our world is so broken that every social activity has stopped. It's important to remember to make art for the joy and excitement of it, and this film swap has been a way to find solace during a strange time of isolation.
All images ©Clémentine Blue & Joseph Ball